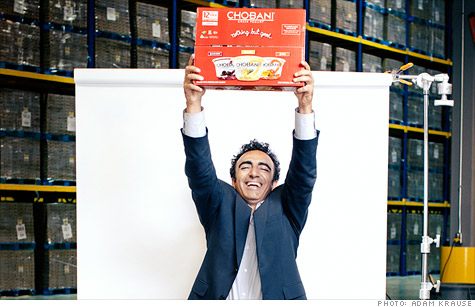 "Chobani's growth is unbelievable," said Sam Hamadeh, chief executive officer of PrivCo, a New York-based firm that analyzes private companies' financial data, in an interview earlier this month. "If you blocked out its name, you'd think it's a software company."
I saw Hamdi Ulukaya, founder and CEO of Chobani Yogurt-maker Agro-Farma Inc., give a talk at Cornell this past spring. Ulukaya's story of his immigration to America (at age 40, he's been in the US less than twenty years) and his founding of the Chobani yogurt brand is a throwback to an older archetype of American entrepreneurship that did not involve computers and hipster wardrobes.
Ulukaya, who by some estimates is now worth $1.1 billion, was a young itinerant student in New York City when he received a serendipitous offer to work on an upstate New York farm. That job as a farm hand took Ulukaya down a path where he eventually made a risky bet on buying an old dairy processing plant from which he makes and ships Chobani yogurt around the globe to this day. Inspiration and perspiration added and stirred.
Ulukaya's remarkable success — Chobani currently sells more yogurt in the US than consumer food giant General Mills' Yoplait label — speaks to the truths that innovation doesn't require superpowers, that crazy ideas sometimes work, and that in America, perhaps more than most places, it could happen to you.